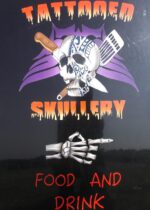 We are a bunch of tattooed bikers who cook good food to order, with meat sourced fresh from the New Forest. We have been attending rallies for years and started this business alongside our full time jobs to help out our local social club, where we now run a kitchen every Wednesday for a motorcycle social evening and when the club have bands on,  we didn't know at the time that we were going to become so popular.  We are now heavily in demand across the south and if you haven't tried our food yet your missing out.
We can cater for pretty much anything, so if you have an event then let us know what it is and we can try to cater for your needs.
All our meat for our burgers, sausages and specials are sourced fresh from an independent New Forest butcher.  All our food is cooked to order to give you maximum taste.
Our menu's are subject to change dependent on the season and we can create a menu to suit specific events.
Here is a list of some of the food we can do,
Burgers
Curries
Chillies
Stews
Pulled Pork
Toasted Sandwiches
Big Burgers
Breakfasts
Hot Drinks
Chips
Onion Rings
We also do a range of vegetarian options so that they run alongside our normal menu.
All our big burgers come with homemade mayonnaise relish and different burger glazes. All our big burgers have been tried and tested and can be adapted to special dietary requirements if necessary.